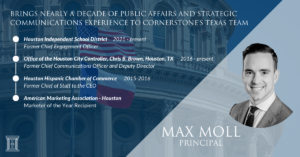 Cornerstone, a leading, bipartisan government relations and public affairs firm, announced today the expansion of the firm's public affairs practice into Texas with the addition of Max Moll to its Houston office. Moll previously served as the Chief Engagement Officer at the Houston Independent School District (HISD) and has more than a decade of communications and political experience in Texas. At Cornerstone, Moll will leverage his public affairs expertise and relationships in Houston and Austin to assist Texas clients with their legislative and communications priorities.
"Max is a great leader with strong communications and legislative instincts who will make an immediate impact on our public affairs and government relations teams," firm President Campbell Kaufman said. "We are very fortunate to be adding him to the team."
"I'm thrilled to join the incredible team of professionals at Cornerstone," Moll said. "I am looking forward to leveraging my knowledge of both the Houston and Texas markets to drive results for our clients."
Moll's addition expands Cornerstone's public affairs practice to Texas, joining previously established public affairs locations in Washington, D.C., Des Moines, Iowa; Atlanta and Oklahoma City.
As Chief Engagement Officer at HISD since 2021, Moll oversaw government relations, communications, family and community engagement and board relations for the nation's eighth-largest school district. He managed a $7.2 million annual budget and supervised a department of 75 employees, including the HISD's legislative affairs work and external lobbying team, to ensure alignment and execution of the district's legislative priorities. Moll also served as the lead spokesperson for HISD, representing the district with external stakeholders, in traditional and digital media appearances, and on panels and other various speaking opportunities.
Prior to working at HISD, Moll served as the Chief Communications Officer & Deputy Director for the Office of the Houston City Controller, Chris B. Brown. He spearheaded all communications initiatives for the Office of the City Controller, working across the City of Houston's 22 departments to help unify external and internal communications. Moll acted as the liaison between the Controller's Office and the City's investors, developing key external messaging relating to investment strategy and portfolio performance. In addition, and in partnership with the Controller's Office Treasury Division, he helped oversee the city's Environmental, Social, and Governance (ESG) investments, helping to grow the portfolio to over $950 million.
Previously, Moll served as the Chief of Staff to the CEO of the Houston Hispanic Chamber of Commerce, where he managed the development and execution of the Chamber's public affairs and community outreach efforts, legislative advocacy campaigns and external affairs projects, including a full rebrand of the Chamber's visual identity and media outreach.
Moll started his career in Houston at Elite Change, Inc., where he developed and executed external affairs initiatives, leading the legislative advocacy efforts at the city and state level for elected officials, various Fortune 500 companies and several NGOs.
He received a bachelor's degree in mass communication from Louisiana State University and a master's degree from George Washington University. He currently serves as a member of the Children's Museum of Houston marketing committee and Houston Public Media's Young Leaders Council, and he is a mentor with Big Brothers Big Sisters of Greater Houston.