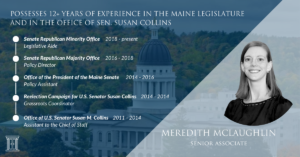 (Augusta, Maine) – Cornerstone Government Affairs today announced the addition of Meredith McLaughlin, former Legislative Aide to the Senate Republican Office, to its government relations team as a Senior Associate. At Cornerstone, McLaughlin will leverage her service for the Maine Legislature and her experience in communications, campaigns and public policy to assist the firm's Northeast clients with their priorities.
Most recently, during her five years as Legislative Aide at the Senate Republican Office, McLaughlin facilitated communication between legislators, lobbyists, state officials, agency personnel and constituents in the development and advancement of legislation. She also advised elected officials on legislative strategy on dozens of bills and prepared written testimony, floor speeches and constituent correspondence for policymakers. Prior to this role, McLaughlin served two years as Policy Director, working with stakeholders to craft legislation that alleviated impediments for constituents and drafting daily memos, testimony, speeches and correspondence for members of the eighteen-member caucus.
"We are excited to have Meredith join the team as we continue to grow our business in Maine," firm President Campbell Kaufman said. "Her experience in the legislature will be invaluable to our clients in Augusta."
McLaughlin also served as Policy Assistant for the Office of the President of the Maine Senate from 2014-2016. As part of this role, she researched, vetted and assisted in confirming nominees for the Senate President's appointments to State boards and commissions, resulting in dozens of the Senate President's nominees being placed in key positions. In addition, she oversaw a legislative portfolio spanning 10 policy committees and coordinated with stakeholders to pass multiple pieces of legislation moving through those committees.
"I am honored to be joining Cornerstone's office in Maine," McLaughlin said. "Cornerstone's team-oriented culture and commitment to collaboration make them uniquely suited to serve clients. I look forward to utilizing my skills and experiences to add further value to the firm."
McLaughlin started her career working for the Office of Sen. Susan Collins (R-ME) and also did grassroots advocacy work for the Senator's 2014 reelection campaign. She holds a Bachelor of Arts in Political Science and Woman's Studies from the University of Maine.