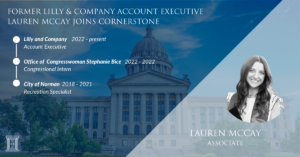 (Oklahoma City) – Cornerstone Government Affairs announced today the addition of former Lilly & Company Account Executive Lauren McCay to the firm's Oklahoma office.
"I am honored to have the opportunity to join Cornerstone's team in Oklahoma," McCay said. "I look forward to bringing my skill set to the organization, as well as the chance to learn from an exceptional group of professionals in our state and across the country."
During her time at Lilly & Company, McCay led the firm's highly successful fundraising effort in Oklahoma. Working closely with clients Rep. Stephanie Bice (R-OK) and Rep. Kevin Hern (R-OK), McCay dedicated time to strategically identify and target a new potential donor base throughout the state. Her efforts played a pivotal role in fostering effective relationships with key stakeholders in Oklahoma's political landscape. These relationships have proven essential in executing multiple fundraisers and meeting fundraising goals for current federal legislators and those seeking office in the U.S House and Senate.
Before joining Lilly & Company, McCay served as a Congressional Intern for the Office of Congresswoman Stephanie Bice (R-OK), where she managed and answered constituent inquiries while also supporting staff by taking initiative on various district office projects and case work.
"Lauren is a go-getter and self-starter, and we are fortunate to have her join the team," firm President Campbell Kaufman said. "Her experience in her previous fundraising role will be invaluable for our clients."
McCay started her career with the City of Norman, where she worked to improve the operational tasks for the City's Parks and Recreation Department.
McCay received her Bachelor of Science in Political Science from the University of Oklahoma.
McCay joins a well-established Oklahoma team that includes Mark Yates, Charlie Hannema, Samantha Guinn and Zachary Lee.