For nearly 20 years, Cornerstone has provided an internship program for young professionals around the world, allowing them to explore the realm of government relations and policy while also building effective communications, policy analysis, and research and writing skills. Our policy interns gain valuable experience and exposure to the people and processes of the United States Congress and Washington, D.C., while our public affairs internship exposes candidates to the intersection of public policy, public perception, and insight into the relationship between media and stakeholders.
The Spring 2022 class is an accomplished and diverse group of individuals, and we are thrilled to welcome them on board for the semester. We received 158 applications and have selected 13: 10 policy interns, two public affairs interns, and one intern dedicated to appropriations-related client initiatives. In addition to this group, we are excited to maintain two of our interns from the fall, Courtney Cano and Anna November, who support our appropriations and operations teams, respectively. We are grateful to have these 15 individuals as part of the team and are excited to see what they accomplish and learn over the next few months!
Ari Kaufman – Frankel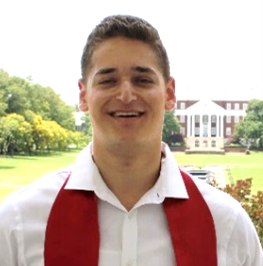 Ari Kaufman – Frankel is a recent graduate of the University of Maryland (UMD) in College Park. During his time at UMD, he was a federal fellow and government and politics major. He previously interned for a winning mayoral campaign in New Haven for Justin Elicker, unseating the three-term incumbent. In 2020, he participated in a remote internship with a grassroots organizing political consultancy called Resistance Labs doing organizing and volunteer engagement work. Come fall of his senior year, he partook in an organizing fellowship with the Jewish Democratic Council of America leading up to the 2020 elections. The semester before he graduated from UMD, he interned in Rep. Dutch Ruppersberger's (D-MD) District office. Since graduating in May 2021, he has had the opportunity to intern on the Hill for Rep. Rosa DeLauro's (D-CT) office and is excited to explore the policy world from the perspective of the private sector.
Aside from policy and his professional endeavors, he is a die-hard Boston sports and Maryland basketball fan. He also loves to travel and hopes to do more of it in the future.
Q: What do you hope to gain from this internship?
A: I am hoping to gain a strong understanding of the appropriations process. In addition, I hope to further develop my legislative research, policy analysis, and professional writing skills.
Q: How did you become interested in government and/or public affairs?
A: I became interested in policy because of my childhood experiences growing up in New Haven, Connecticut. I noticed that where a child grows up has a huge indication of that child's potential to be successful. As a result, I started thinking of ways to improve our country to make it more equitable for all Americans. My passion for policy developed because I see policy as one of the more effective means to bring about substantial and lasting change.
Q: What's something people might be surprised to know about you?
A: When I was 3 years old, I shot a hole in one on the first hole of mini golf that I ever played.
Cameron Wilson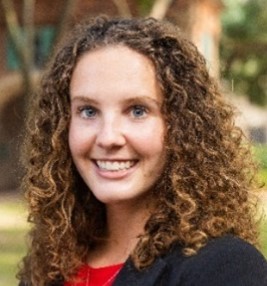 Cameron Wilson is a junior at the College of Charleston Honors College majoring in international studies and political science and minoring in French. She is currently in Washington D.C. through the University of South Carolina Honors Program. While at the College of Charleston, she works with Planned Parenthood South Atlantic and Planned Parenthood Generation Action conducting political advocacy as well as outreach and education. Before coming to Cornerstone, she worked at a global human rights nonprofit called Global Exchange, focusing on marketing and social media. She also worked at the World Affairs Council of Charleston on an education committee creating a South Carolina Model United Nations program, among other academic competitions.
Q: What do you hope to gain from this internship?
A: I want to gain more experience with bipartisan work and policy research. I also hope to use this experience working with a variety of different topics to find a topic to specialize in throughout my career.
Q: How did you become interested in government and/or public affairs?
A: I became interested in government and politics through my high school's Model United Nations Program, which exposed me to global issues I did not even know existed. My interests were solidified during my first semester in college when I took a Global Politics course, combining many of my interests into one field. This passion eventually expanded to include American politics.
Q: What's something people might be surprised to know about you?
A: I used to dive in high school and became a coach once I could not dive anymore.
Gabriel Ronquillo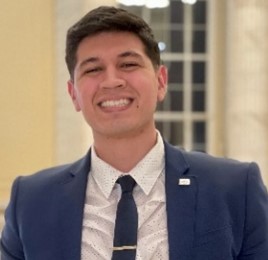 Gabriel Ronquillo is a senior at New Mexico State University (NMSU) majoring in political science with minors in public administration & policy and communication studies. Gabriel was extremely involved with the Associated Students of NMSU, NMSU's student government, where he served as a senator for the College of Arts & Sciences, Senate sergeant-at-arms, chair for the Student Advocacy Board, and the eventual director of governmental affairs.
Gabriel recently completed an internship in the United States House of Representatives in Washington D.C., gaining invaluable experience into the inner workings of Congress and federal legislation. Following his graduation in May 2022, he intends to make Washington D.C. his home. In his free time, Gabriel enjoys watching various sports games, Marvel movies, cooking, and playing with his cat.
Q: What do you hope to gain from this internship?
A: I hope to gain knowledge on the inner workings of Cornerstone and many other Washington D.C. entities. I would also love to form relationships with both Cornerstone employees and their clients so that I may find a position on the Hill that best suits me.
Q: How did you become interested in government and/or public affairs?
A: I first became involved with my student government during my freshman year at NMSU in 2018. I joined the Student Advocacy Board—a group of diverse students that lobby on behalf of NMSU students at the New Mexico Legislature. I stayed with the Board and was able to become the chair in 2020 when I began my term as the director of governmental affairs. Through that position, I was able to work with the NMSU government relations team, New Mexico legislators, and other government entities.
 Q: What's something people might be surprised to know about you?
A: Something surprising about me is that I have always loved to cook. I tend to be more of an "estimation cook" where I add ingredients without exact measurements. However, it always comes out delicious. I also love trying new foods. People are often surprised over how much I can eat in one sitting. Lastly, I have eaten jalapeños all my life, so my spice tolerance has reached a level where almost nothing is spicy to me anymore.
Grace Shevchenko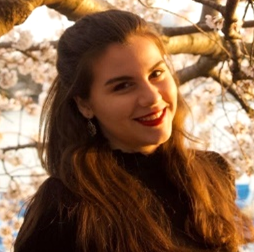 Grace is currently a senior at Georgetown's Walsh School of Foreign Service and grew up right outside of Philadelphia. She is working towards a Bachelor of Science degree in foreign service majoring in international security with a certificate in diplomatic studies. Following graduation, Grace hopes to pursue a career in public service and foreign policy and is excited to explore different paths.
At Georgetown, Grace has been heavily involved with the Institute of Politics and Public Service, which enabled her to be a part of a select cohort sent to observe the 2020 Iowa Caucuses. Most recently, Grace finished an internship with the Department of State in the Political-Military Affairs Front Office where she enjoyed assisting in the mission of advancing U.S. foreign policy interests through the creation and implementation of security policy. Previously, Grace was a summer assistant for Catholic Relief Service's Global Learning and Development team, interned on the Hill for the House Foreign Affairs Committee, and worked as a policy assistant and lead congressional advocate for the Georgetown Institute for Women, Peace, and Security. In in her free time, Grace enjoys hiking, is an avid chef and can be found most nights playing board game nights with her roommates.
Q: What do you hope to gain from this internship?
A: Having seen the policymaking process from the perspective of two different branches of government during my past internships, I'm excited to better understand the relationship between the government and the private sector by seeing the process from a new point of view. Moreover, I'm excited to explore new policy areas thanks to the generalist style of the internship and ultimately build connections with the Cornerstone team and my fellow internship class!
Q: How did you become interested in government and/or public affairs?
A: Growing up I was always fascinated by stories my dad told me about his childhood in the Soviet Union. From a young age, this made me very cognizant of the good fortune I had to have been born in a democracy with the ability to play a role in my government. Then, in high school I had an amazing AP World History teacher who helped me realize my affinity towards writing and the liberal arts and helped push me to study international relations at Georgetown which has allowed me to dive further into understanding government and foreign affairs.
Q: What's something people might be surprised to know about you?
A: The summer after my freshman year I worked as an au pair (nanny) for a family living just outside of Cannes in the South of France that didn't speak any English!
Gracen Pace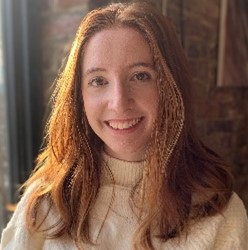 Gracen recently graduated from the University of Georgia with degrees in political science and international affairs. She has about seven years of experience working in a variety of jobs that include customer and constituent services which has given her a wide scope of skills that can apply to any job. She aims to start graduate school in Fall 2022 to advance her goals of working in legislative advocacy for environmental causes.
Q: What do you hope to gain from this internship?
A: I hope to learn more about the behind the scenes of a large lobbying firm and explore whether lobbying is the career I'd like to pursue. Since I've observed policymaking from a Hill perspective, I am extremely interested in seeing it from a different point of view.
Q: How did you become interested in government and/or public affairs?
A: I became interested in government after the 2016 presidential election. I always enjoyed political history and learning about social issues, but I found government/policymaking to be extremely confusing and didn't focus too much on it when I was in high school. However, the highly politicized presidential election during this time really inspired me to learn more about how the election process works, which is why I ended up choosing political science as one of my majors in college. I love the legislative process and learning about the relationships within Congress that lead to the passing of policies. I want to be able to advocate for groups particularly vulnerable to climate change, hopefully on an international scale and I think lobbying could be a good route for this career path.
Q: What's something people might be surprised to know about you?
A: I'm a dancer! I have been at the same studio since I was 14 (through college) and love choreographing and teaching my own classes.
Justin Franklin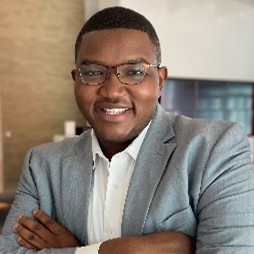 Justin is a first-year public affairs fellow and Master of Public Administration candidate at the Cornell Jeb E. Brooks School of Public Policy from Memphis. Justin recently graduated from Louisiana State University (LSU) with a bachelor's degree in political communication and a minor in history. While at LSU, Justin served as the president of the LSU Chapter of the National Association of Black Journalists. In the summer of 2019, Justin studied abroad on LSU's Media and Politics in Europe Program where he learned about the relationship between media, politics and policy in six European countries.
Justin completed an honors thesis on race, news media and mob violence that compared news coverage of the aftermath of the Tulsa Race Riot of 1921 to coverage of the social unrest that followed the death of George Floyd in 2020. Justin interned at WVLA/WGMB local NBC and FOX in Baton Rouge as a digital and news production assistant during his junior year at LSU. During his senior year, Justin worked as a communications intern for Baton Rouge Mayor-President Sharon Weston Broome.
Q: What do you hope to gain from this internship?
A: I hope to gain a widened network of policy professionals and apply my internship and academic experience to public affairs and strategic communication for a national firm. This internship will also allow me to learn more about how organizations promote goals and values to audiences in Washington and in state capitals across the nation.
Q: How did you become interested in government and/or public affairs?
A: For the longest time, I wanted to be a civil engineer, but I made the decision to leave the design and construction of roads and bridges to those of us who are good at math! Growing up in a faith-based family of servants, I l have always loved engaging with people. I also love to tell stories. Public affairs allows me to do both and have an impact on the world around me.
Q: What's something people might be surprised to know about you?
A: I memorized every U.S. state capital by the time I was 7!
Lily-Max Cooke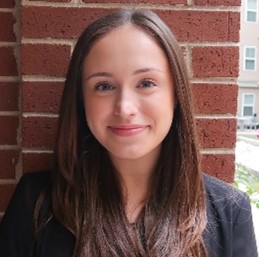 Lily-Max Cooke is a senior undergraduate at the University of Maryland, studying government and politics with a minor in nonprofit leadership & social innovation. This past year she was accepted into the Federal Fellows program, specializing in political engagement & advocacy. On campus, she is devoted to serving the student body as the director of government affairs, within the Student Government Association, and is passionate about advocating for students in the Maryland General Assembly. Off-campus, she proposed veterans' education policy to the Maryland Legislature as an intern for Sen. Sarah Elfreth (D-MD) and has continued to push for policy reforms from both a student and veteran-dependent perspective. In addition to her work in government affairs, she is drawn to serving the community by working with local nonprofit organizations that focus on child development.
Having spent her childhood in Rome, Italy, Lily-Max is interested in pursuing foreign languages, international affairs, and education policy. She is planning to attend law school in the near future and is eager to immerse herself in the private sector through the Cornerstone internship program.
Q: What do you hope to gain from this internship?
A: I hope to explore different topic areas such as defense and education while gaining new insights into the operations of the private sector and how they relate to policy change in our government.
Q: How did you become interested in government and/or public affairs?
A: Growing up with a father in the military and as a government employee, I had the unique experience of seeing the value of public service and policy change firsthand. His work ethic and devotion to others has always been an inspiration of mine, and I found myself gravitating towards serving others through public policy in my academic and personal life at the University of Maryland.
Q: What's something people might be surprised to know about you?
A: I grew up in Rome, Italy and speak fluent Italian!
Megan Williams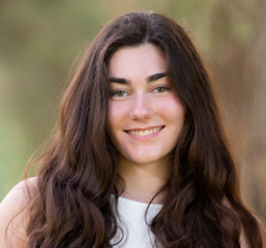 Megan is a government & politics and public policy double major at the University of Maryland, College Park. She enjoys working on international policy and social justice issues. Megan is a member of various clubs on campus including a service club called Circle K International and Model UN. In the future, she hopes to continue working on policy and potentially attend law school. In her free time, she enjoys playing volleyball and board games.
Q: What do you hope to gain from this internship?
A: I want to experience working in an office setting. I also want to expand my knowledge about policy to different focus areas to determine if I prefer a specific policy area.
Q: How did you become interested in government and/or public affairs?
A: I watched the news a lot as a child and started to investigate politics more myself after that. I became interested in international affairs and how policy shapes society.
Q: What's something people might be surprised to know about you?
A: I know how to surf!
Tyler Packer

Tyler Packer was born and raised in southeast Mississippi, in a very small town called Stateline, where his family is one of the five founding families of the town. He attended Mississippi State University for undergrad education where he majored in political science. While at Mississippi State, he was heavily involved in admissions and student government. He had the opportunity to serve as a student recruiter orientation leader and was fortunate enough to be elected as student body president his senior year.
He recently graduated in the Spring of 2021 and is currently in his first year of the International Education program at George Washington University.
Q: What do you hope to gain from this internship?
A: I hope to gain a definitive insight into the policymaking process within our government. I hope to gain knowledge on how lobbying, public relations, and even law firms operate on a daily basis. Most importantly I hope to make memories and enjoy this experience as best as I can!
Q: How did you become interested in government and/or public affairs?
A: I first became interested in government and public affairs through the youth development organization known as 4-H. I had the privilege to serve as Mississippi's state council president my senior year of high school which granted me incredible insights to the legislative process, statewide company board selections, and a lot of hands-on activities working with students.
Q: What's something people might be surprised to know about you?
A: My hometown has less than 300 people in it and I sing.
Umailla Fatima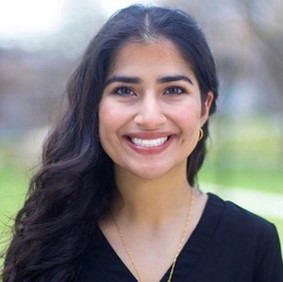 Originally from Cumberland, Maryland, Umailla Fatima is a senior at the University of Maryland (UMD), where she is pursuing a dual degree in public policy and biology. She has performed research at Johns Hopkins University and Children's National Hospital and works in an emergency department. Outside of clinical settings, she has interned with the American Academy of Pediatrics and the Maryland Department of Health.
On campus, she is involved with several organizations focused on advocacy and health and served as a teaching fellow for the UMD Federal Fellows program. After completing her undergraduate studies, Umailla plans to attend medical school and pursue a career that combines medicine and public policy. In her free time, she enjoys trying new restaurants, going on walks, and exploring new places.
Q: What do you hope to gain from this internship?
A: Most of my experiences have been focused on medicine and health policy, so I hope to become more familiar with work in other policy areas and better understand how different actors influence policy. I am interested in learning about the role that a bipartisan consulting firm plays in the policy process and how consultants work with clients to advance improvements in different policy areas. I hope to learn how to apply the skills I have gained in the classroom and achieve new skills. I am also very excited to delve deeper into my policy interests and support the firm's work related to these.
Q: How did you become interested in government and/or public affairs?
A: Working in a clinical setting and being exposed to the issues that different patient populations face made me want to explore how to help people in a way that goes beyond health care. After taking courses in public policy, I realized that policy, or the lack thereof, is responsible for creating conditions that make it easier or harder for people to achieve or maintain health. Seeing the huge influence that government and public affairs have on our everyday lives, I became interested in better understanding how various actors collaborate to drive meaningful change. The lack of awareness of government and public affairs in the medical field has made me passionate about working in the sector and bringing awareness to the importance of the intersectionality of these fields.
Q: What's something people might be surprised to know about you?
A: I've gotten into the habit of baking to relieve stress, and I recently perfected my chocolate chip cookie recipe!
Varsha Menon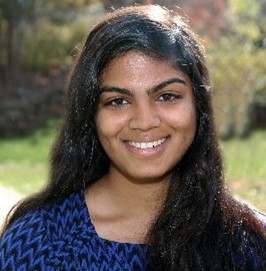 Varsha Menon is a first-year student in the Master of Public Policy program at American University. Originally from Augusta, Georgia, she graduated in May 2021 from the University of North Carolina at Chapel Hill, where she double majored in public policy and political science and minored in philosophy.
Prior to joining Cornerstone, Varsha interned for ACESWorld, a Washington, D.C.-based nonprofit that works to end global poverty by increasing women's access to education. In addition, she was a student consultant for myFutureNC, a nonprofit that strives for 2 million North Carolinians to earn a postsecondary degree by 2030. Her research focused on improving educational attainment for North Carolina's historically black colleges and universities (HBCUs) and disconnected youth, defined as those aged 16-19 who are neither working nor in school. She also has experience working in campaigns, having volunteered with the Democratic Party of Georgia during the 2020 presidential election. Varsha's areas of interest include social, health, and education policy. In her free time, she can be found writing, working out, and watching soccer and basketball.
Q: What do you hope to gain from this internship?
A: I hope to gain a deeper understanding of policy processes at the federal level, as well as sharpen my skills in policy writing, research, and analysis. I also look forward to making new personal and professional connections that last long after the internship comes to an end.
Q: How did you become interested in government and/or public affairs?
A: I have always been interested in government and politics for as long as I can remember. Still, I did not initially consider studying these topics in college, instead declaring a business major. However, as I took more and more classes in political science and public policy, I became increasingly enamored with these subjects, especially intrigued by the power of policy in shaping the lives of various populations. While I was primarily drawn to business for its creativity and problem solving, I quickly learned that policy employs these very same skills. Also, as one of my undergraduate professors once said, "The goal of public policy is to create an increased quality of life for people." Years later, these words continue to resonate with me as I work towards a career in which I can help solve the pressing policy problems that face today's world.
Q: What's something people might be surprised to know about you?
A: The summer after my first year of college, I spent a month backpacking, rock climbing, and whitewater canoeing in the Blue Ridge Mountains of western North Carolina!
Zachary Nosanchuk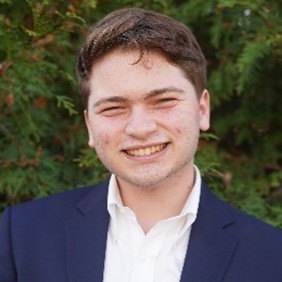 Zachary is a senior at the George Washington University (GW) in Washington, D.C., majoring in political communication. Hailing from Shaker Heights, Ohio, he is deeply engaged in GW's community. As a student there, he currently serves as chief of staff for the Student Association, student ambassador for Free the Facts, and student co-chair of the Joint Committee of Faculty and Students. He previously engaged in student organizations as a Jewish Learning Fellow for GW Hillel, columnist for the GW Hatchet and director of mentorship for the GW College Democrats.
Before Cornerstone, he interned in a variety of communications and political roles at the Office of the Executive Secretary at the U.S. Department of the Treasury, Precision Strategies, West End Strategy Team, End Citizens United PAC, the Office of Rep. Marcia Fudge (D-OH), and the Fairmount Group. Outside of school and work, he loves to write, cook, and explore D.C.'s vibrant restaurant scene.
Q: What do you hope to gain from this internship?
A: Cornerstone's unique business model and bipartisan staff makes it a truly different opportunity for me. I hope to gain from learning alongside the lobbying team (as a public affairs intern), assisting the team's clients reach their favorable outcomes. Coming from working in more partisan environments, I think this will be an eye-opening experience.
Q: How did you become interested in government and/or public affairs?
A: In my high school, I was deeply engaged in our student newspaper, helping manage coverage, assign reporters, and create hard-hitting content on administration and greater political news. This drew me to an interesting question: how can spokespeople work better with the press? Although this experience was in high school, I took it to a new level in college, working at multiple public affairs firms, a congressional office, a political action committee, a media organization, and the Department of the Treasury. There, I've become fascinated by how the media and politicians can interact more efficiently, kindly, and creatively.
Q: What's something people might be surprised to know about you?
A: I've been a vegetarian my entire life – I have never eaten poultry or fish!
Anoova Guthikonda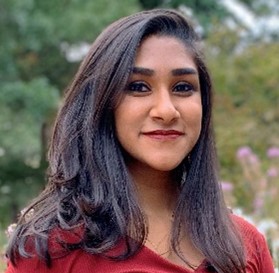 Anoova Guthikonda graduated in December 2021 from the University of North Carolina at Chapel-Hill (UNC) with degrees in economics and global studies with a concentration in international politics and a minor in politics, philosophy, and economics. She is passionate about domestic policy analysis and global affairs and hopes to play an active role in analyzing national security policy as well as democratic development. At UNC, Anoova was the managing editor of the Carolina Political Review, a political journal operated by the UNC Institute of Politics. Through her work, she elevated her passion for exploring the nuances of international policymaking and authored analytical articles such as "The US-China Proxy War in the World's Blind Spot," which examined the two powers' battle over hegemonic influence in Djibouti.
Over the last year, Anoova worked as an international research intern for the Urban Institute (Urban), where she conducted qualitative and quantitative research on democratic development issues in the United States, Nepal, Kenya, and Moldova. At Urban, Anoova also co-authored a scope of work for a political economy assessment of COVID-19 in Nepal for USAID's Sajhedari- Support to Federalism Project. Additionally, she was an intern for the Chicago Council on Global Affairs in 2021. At the Council, she researched, organized, and planned programs on issues such as the global electric vehicle race and coordinated speakers such as the CEO of Volkswagen Scott Keough and the Co-Founder of Vox Matthew Yglesias. Through her research and analysis of global issues, Anoova aims to help her audience discover how news headlines can directly impact their lives and societies while sparking innovative conversation rooted in reform and equity. In her free time, Anoova is an artist and a dancer, and she enjoys playing strategy games like Resistance.
Q: What do you hope to gain from this internship?
A: At Cornerstone, I hope to enhance my interest in exploring and analyzing various facets of research and public policy analysis while also getting first-hand exposure to the field of public affairs and government affairs consulting. I believe I could learn and grow a lot in those areas by working with Cornerstone's experienced analysts and associates. I also look forward to learning how Cornerstone cultivates public policy dialogue that focuses on targeting weak spots in policy responses to create tangible solutions to issues, such as the national energy issues matrix to break down issues and impacts of key policy areas in the energy sector. As an individual who hopes to enter a career in the consulting field and is passionate about public affairs, I am most excited to learn how to solve complex issues in diverse industries to advance clients' priorities, and I look forward to improving my critical thinking and analytical writing skills this spring through the work I will be doing.
Q: How did you become interested in government and/or public affairs?
A: I have been interested in government affairs and policy analysis since high school, where I spent four years participating in extracurriculars (speech and debate, policy research, etc.) aimed at learning about institutional political, economic, and social issues and analyzing ways to institute reforms to address them. As I continued learning more about government and public affairs at UNC, I began to understand the world in a lens beyond what is taught in college textbooks. Analyzing the causes behind political fallouts and the impacts of economic policies taught me to evaluate my community on a national scale and inspired me to learn about issues beyond the incentive to succeed in a course. As a result, I now look forward to entering a career in government and public affairs to further my passion of analyzing policy issues and being a part of reforming them within the sphere of government relations.
Q: What's something people might be surprised to know about you?
A: Art is one of my favorite hobbies! I enjoy creating art with everything from pencil and charcoal sketching, painting, and watercolors to video production, Adobe Illustrator, and pho