We are excited to welcome an exceptional group of eleven young professionals and students from across the country to our Summer 2021 Intern Program.
Throughout the COVID-19 pandemic, we have continued to welcome young professionals interested in government relations to our internship program, as we have done since the founding of the firm. We have embraced the virtual work environment as part of the program, allowing for an intern class with different geographic footprints and diversified business interests, and are thrilled to continue the program this summer.
This year we received 643 applications, a record number, from individuals across the country. Our summer intern class will include eight policy interns, one operations and marketing intern, and two public affairs interns to support our growing public affairs business unit. We are grateful for the addition of these eleven individuals and are excited for their contribution to our Cornerstone team!
Josie Ansbacher (Policy Intern)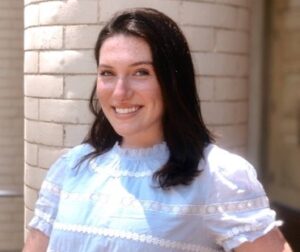 Josie Ansbacher is a rising senior at Wake Forest University (WFU) in North Carolina where she majors in politics and international affairs with minors in Russian and communications. She was born in Raleigh, North Carolina along with her two younger brothers and dog. This semester, Josie is in a program through WFU called Wake Washington where she is receiving academic credit for a full-time internship while taking classes with a resident Wake professor. She has been interning with the Human Rights Campaign (HRC) on their Campaigns & Organizing team, where they have been working hard to advocate for passage of the Equality Act, and advocate against the wave of anti-LGBTQ legislation sweeping the nation. She has loved interning with HRC because she continues to be inspired every day by the people around her. She has also loved learning about strategic communications and campaigns, which is something she looks to potentially pursue in the future. Last semester, she was also involved in campaigns as an intern for the North Carolina Democratic Party in Forsyth County, North Carolina. She loves the problem-solving that comes with running campaigns and the strategizing it requires. Josie's areas of interest include education, defense, and international affairs.
Q: What do you hope to gain from this internship?
A: I hope to learn more about how policy informs elected officials' behaviors. Cornerstone works in a lot of sectors that I have not had experience in, and I am hoping to be included on projects within these to be exposed to new things and continue building on pre-existing knowledge.
Q: How did you become interested in government and/or public affairs?
A: Going into college I did not really know what I wanted to do, but I knew I wanted to write a lot, and do something with current events. I took an American Government class freshman year and absolutely loved it, and my passion has only grown stronger since.
In the wake of George Floyd, I also began to get more involved in my community and putting actions behind my words and the values I hold. This led me to my internships that I mentioned earlier, where I worked on the ground to advance policies that I believe in. Although our government can be challenging and frustrating sometimes, the institutions we have in place are fascinating to me, and I appreciate how much engagement citizens are able to have.
Q: What's something people might be surprised to know about you?
A: I lived in Singapore for three years! My parents are both educators and applied for jobs internationally. It was truly the greatest experience of my life thus far and can only hope to go back one day.
Gabrielle Aoki (Policy Intern)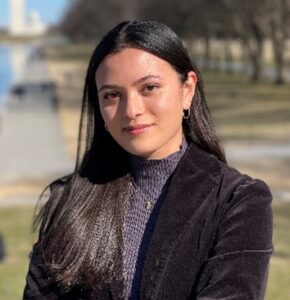 Gabrielle Aoki is from Orange County, California and attends the University of Southern California in Los Angeles. As a law, history, and culture major and Middle East studies minor, her academics have exposed her to diverse outlets and communities that have made her time in school one that she values. As a student, she has interned within the Los Angeles City Council and the Campaign Legal Center, where she learned about local governmental processes, criminal justice reform and voter rights issues. She has also spent time on campus speaking with prospective students and attending guest lectures as a Dornsife Ambassador and Associate of the Unruh Center for the Political Future. This past semester, she has been in Washington, DC as a cohort in the Dornsife in DC program, where students study political science and international relations by DC-based professors with experience in the government and news industry. This experience has applied her studies to hands-on professional settings and, although she is happy to return to California for a final year at USC, she is eager to explore her interests in law and international affairs post-graduation and hopes to return to DC to do so. Gabrielle's areas of interest include international affairs, education, and health.
Q: What do you hope to gain from this internship?
A: In addition to developing my logistical capabilities as a young professional and third-year student, I seek to expand upon my understanding of governmental relations as it tailors organizations' specific needs and demands to those of the federal government. By learning about the process of background research and the various means of interaction and strategic planning across a spectrum of issue areas, I hope to deepen my awareness of governmental affairs as it informs our present-day policymaking process.
Q: How did you become interested in government and/or public affairs?
A: I have always been interested in history, it's a subject that drives some of my most rewarding and challenging studies. Since coming to college, I've only grown more fascinated by how the government sector functions and crafts public policy and in turn, how these elements can be construed in a historical context. There is an array of interaction between the private and public professional fields as well as expansive issue areas that to me, are invaluable as they impact my worldview and help me find what most drives my curiosity as an individual.
Q: What's something people might be surprised to know about you?
A: I love painting and drawing, and prior to pursuing a degree in history and politics, I attended an arts school where she majored in visual arts.
Lexa Brenner (Policy Intern)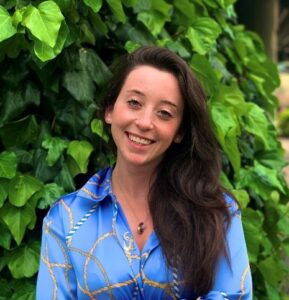 Lexa Brenner is a junior at Harvard University studying government and Middle Eastern Studies with interests in national security, foreign policy and counterterrorism. She is the incoming editor in chief of the Harvard International Review and was a Spring 2021 intern for the Global Terrorism Database at the University of Maryland. Her previous experiences center around IR-policy on projects and commissions for public and private institutions, including US-Iran policy for the House Foreign Affairs Committee, historical National Security Council research for the Department of Defense, and human rights policy for Facebook. Lexa is a proud native of Dallas, Texas, and enjoys travelling, exercising, and meeting new people whenever she can. She is fluent in Spanish, is learning Arabic, and is determined to become a proficient polyglot. She views public policy work as an extension of the community service environment she dedicated herself to before college and hopes to work with the intelligence community and on the Hill in the future. Lexa's areas of interest include defense, international affairs, and health.
Q: What do you hope to gain from this internship?
A: My priority is gaining an understanding of the relationships between policy lobbying and consulting groups and the Hill – how do places like the Cornerstone really impact government policy? From a skills perspective, I hope to learn how to say more with less. I'm also looking forward to learning from Cornerstone's impressive interns and professionals.
Q: How did you become interested in government and/or public affairs?
A: I started my dive into government and public policy through my fascination with terrorism. In learning about both the successes and failures of US operations in the Middle East since 9/11, I came to be fascinated by how policies surrounding national security and foreign policy came to be designed and implemented. While at college, I've found policymaking an increasingly strategic and engaging world – what I first thought was a jigsaw puzzle continues to look more like three-dimensional chess.
Q: What's something people might be surprised to know about you?
A: I describe myself as a fitness nut and used to be a boxer. I love running, martial arts, and rowing, and recently completed my second modified indoor triathlon.
Grace Dunlap (Policy Intern)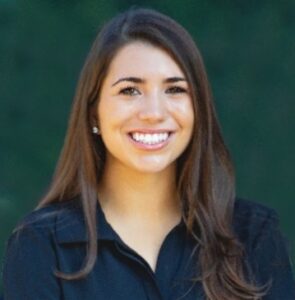 Grace Dunlap is a rising 3L at the University of Houston Law Center (UHLC) in Houston, Texas. Prior to starting law school, Grace worked for a real estate development company and received her undergraduate degree in Economics from Texas A&M University. During law school, Grace has most enjoyed studying legal policy theory, particularly the overlap in behavioral economics and the law. Grace is a member of The Junior League Houston Chapter and is a director for the UHLC Student Bar Association and the school's Honor Board. During her time at Texas A&M, Grace enjoyed partaking in various leadership roles for Alpha Chi Omega sorority and spent her summers in Washington, DC interning for Texas representatives Pete Olson and Joe Barton, as well as the Junior State of America program at Georgetown University. Grace's areas of interest include tax, agriculture, and energy and environment.
Q: What do you hope to gain from this internship?
A: I want to further my understanding of how government relations firms successfully advocate for the goals of the private sector to the legislature. I'm looking forward to learning about the many facets of work a government relations firm participates in, and I'm especially excited to do so in a bipartisan environment.
Q: How did you become interested in government and/or public affairs?
A: I have always been interested in the realm of government and public affairs work. I find fulfillment in counseling and problem solving and have always enjoyed discussions surrounding contemporary issues. The impact of the law on society has continued to fascinate me and I've felt called to participate in the public sector since I can remember.
Q: What's something people might be surprised to know about you?
A: I love consuming pop-culture content in my free time, so much so that in 2019 I spent Memorial Day weekend at a camp hosted by my favorite pop-culture podcast. My favorite subset of pop culture content is anything related to Taylor Swift.
Megan Hart (Policy Intern)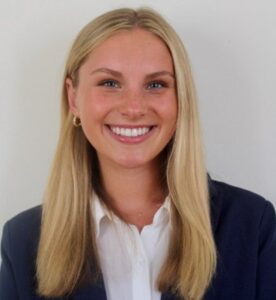 Megan Hart grew up right outside of Washington, DC in Chevy Chase, Maryland. She is a rising senior at Tulane University majoring in political science and social policy & practice with minors in management and social entrepreneurship. Before joining Cornerstone, Megan participated in Tulane's Remote Internship Program as a marketing intern. She also has experience as a sales and research intern for a local New Orleans organization. At school, Megan is a member of the university's service fraternity where she participates in service projects throughout the City of New Orleans. She has been involved in service work throughout her time in both high school and college and plans to continue this work after graduation. Megan also plans to attend law school to further her career in U.S. policy.  Megan's areas of interest include health, international affairs, and education.
Q: What do you hope to gain from this internship?
A: I am very eager to expand my research and writing skills during my time at Cornerstone through specific policy research, memo writing, and policy briefs. I am very interested in U.S. health policy and hope to gain a broader knowledge of this subject while also finding new subjects that interest me.
Q: How did you become interested in government and/or public affairs?
A: Growing up in DC, I was always very fascinated by government and politics in general. In high school, I loved taking American history courses, especially AP U.S. History and AP American Government. Eventually, I began to apply my interest in U.S. history to contemporary law and policy through courses like constitutional law. I have fostered these interests through working on research projects about local policies in Louisiana and their impact on constituents.
Q: What's something people might be surprised to know about you?
A: I am very fascinated by World War II and one of my favorite pastimes is reading WWII historical fiction. I also love to visit the WWII Museum in New Orleans!
Montana Love (Policy Intern)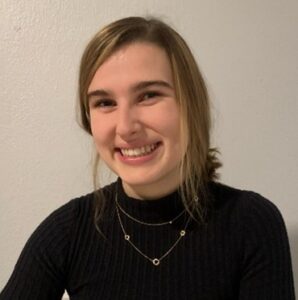 Montana Love is a rising senior at Yale University double majoring in political science and religious studies. Prior to joining the Cornerstone team, she spent last summer working as a legislative intern with a focus on health policy for her U.S. Senator and conducting research into COVID-19 policy issues through the Yale Women in Government Fellowship. Outside of the classroom, Montana serves as co-president of the Yale Mock Trial Association, an advising fellow for the college-access organization Matriculate, and a student researcher for the Lowenstein Human Rights Project. She grew up in Pikesville, MD, and she loves taking her dog for walks, rooting for the Baltimore Ravens and Orioles, and spending time with friends. Montana's areas of interested include health, education, and defense.
Q: What do you hope to gain from this internship?
A: I hope to gain a deeper understanding of new policy issues. I'm also looking forward to building strong connections with the other interns and members of the Cornerstone team.
Q: How did you become interested in government and/or public affairs?
A: I've been interested in government and public affairs for as long as I can remember. Growing up, I loved reading about politics, and my interest in these fields ultimately led me to major in political science in college and to intern for my Senator last summer. I'm excited to learn even more about these fields over the next few months!
Q: What's something people might be surprised to know about you?
A: I'm a distance runner! I've run several half-marathons as well as a full marathon, and I hope to complete a 50k in the future!
Douglas Luo (Policy Intern)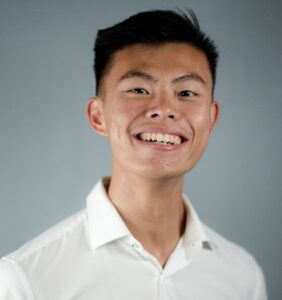 Douglas Luo is a recent graduate of the University of Southern California with a bachelor's degree in public policy and is currently pursuing a master's degree in public policy. Prior to joining Cornerstone, Douglas interned at Unite America, a nonpartisan movement championing reforms to put voters first, working on election policy. He has also spent a summer on the Hill interning for Senator Dianne Feinstein (D-CA) and as an analyst intern at the U.S. Government Accountability Office with the international affairs & trade team. On campus, Douglas was the director of the USC Speakers Committee, a branch of student government that hosted lecture-style events with recognized figures in media and academic. Outside of the office, Douglas can be found running or scouring Los Angeles for great coffee spots. He is looking forward to joining the Cornerstone team and developing his knowledge in new policy domains. Douglas' areas of interest include health, defense, and education.
Q: What do you hope to gain from this internship?
A: I hope to gain a better grasp of what industry issues most concern Cornerstone's clients and how they pertain to policymakers at different levels of government. Furthermore, I'm hoping to learn how successful lobbyists cultivate productive relationships and to gain hands-on experience interacting with clients
Q: How did you become interested in government and/or public affairs?
A: When I was in high school, most of my friends were involved in speech & debate which encouraged me to try out extemporaneous speaking. The experience sparked an interest in current affairs that led me to study political economy in classes. I eventually shifted to public policy because I felt it was a more applied context for the theories I had been learning. Interning on the Hill where I attended hearings and provided constituent services was invaluable for understanding the breadth of government's role in our society. My work experiences and coursework have deepened my interest in developing evidence-based policies which I believe, if appropriately implemented, can make government a positive force in people's lives.
Juan Carlos Mora (Policy Intern)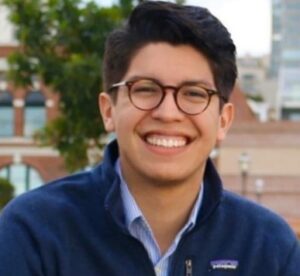 Juan Carlos Mora is a sophomore at the George Washington University pursuing a Bachelor of Arts in philosophy with a minor in public policy and biological anthropology and a Master of Arts in Public Policy with a concentration in philosophy and social philosophy. While his activist roots come from organizing field works in California's wine country, he has continued serving his community as an intern at the campaign and legislative offices of Sen. Bill Dodd (D-CA) and U.S. Rep. Mike Thompson (D-CA). Recently, Juan Carlos has served as the president of DC College Democrats and campaign manager for Gerardo Martin's bid for Napa city mayor. Juan Carlos is now a philosophy, law, and policy writer at the George Washington University, researching the legal implications of genetic patenting, disparities between district attorneys and public defenders, and good governance in local governments. Juan Carlos' areas of interest include energy and environment, health, and tax. However, he is also deeply invested in learning more about the appropriations process and infrastructure policy (particularly as it pertains to the Kirby Corporation).
Q: What do you hope to gain from this internship?
A: A large part of my professional experience has come from internships that focused on partisan politics. While I believe that it, paired with my academic knowledge, given me a better understanding of our governmental institutions, I am still interested in making my understanding holistic, and that includes bipartisan organizations like Cornerstone. In addition, I also hope to become more intimately familiar with the policy development process. It's a function that precedes our institutions of government but has such an important impact on everyone.
Q: How did you become interested in government and/or public affairs?
A: My first interaction with politics came in the wake of the Sandy Hook shooting. I had never organizing volunteers, much less put my face in front of a crowd of people to demand policy changes. After that experience, I knew that our government will only work as diligent as its citizens demand. Thereafter, I was elected to my county's democratic central committee, where I faced a harsh reckoning: that suspicion would be cast on me simply because of the hue of my skin. It has been my mission ever since to make my parents proud, to make their pilgrimages from Nicaragua and Mexico worth it
Q: What's something people might be surprised to know about you?
A: Oddly enough, I was born in big city, raised in a rural city, and went to school in California's wine country. This is the only explanation for my love of both metropolitan and rural areas, taking a San Francisco trolly car and also riding horses. When I'm doing neither of those, I teach myself the piano, mostly classical pieces.
Caroline Floam (Marketing & Operations Intern)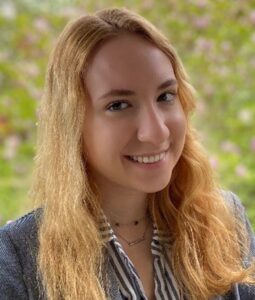 Caroline is a rising senior at Boston University (BU) studying political science and public relations. Prior to joining Cornerstone, she spent the summer of 2020 at the American Enterprise Institute as a media relations intern and the summer of 2019 as the social media manager for the Gregorian University Foundation. In the spring of 2018, Caroline held a research position at the Center for Strategic and International Studies, completing independent research on the implications of Turkey's 2018 presidential election. She also serves as the director of communications for The Boston Political Review, BU's nonpartisan political journal, the Crisis and Research director for Unleashed PR—BU's student-run, nationally recognized PR firm—and a mentor for high school students across the U.S. hoping to start their own political journals through the Society of Undergraduate Humanities Publications. During the semester, Caroline strives to maintain her Dean's List status and serves on her sorority's philanthropy committee. Caroline grew up in Bethesda, Maryland with her two siblings and parents, all of whom are avid Baltimore Orioles fans. She plans to enter law school after completing her undergraduate studies and hopes her law degree will assist her in her government relations career. Caroline's areas of interest are defense, tax, and agriculture.
Q: What do you hope to gain from this internship?
A: I hope to gain an in-depth understanding of the practice of government consulting, and its accompanying strategies, and how firms such as Cornerstone manage diverse client interests, especially though an administration change, public health crisis, and intense polarization.
Q: How did you become interested in government and/or public affairs?
A: I grew up in suburban Washington and, from a young age, was incredibly interested in the events that were happening just miles away from my home. I wanted to be in on the action, but not necessarily as a government employee. My mom worked in government relations for many years, and I always liked the idea of serving as a catalyst for non-federal, private, and non-profit entities to get their voices heard by key elected officials. The idea of building bridges in this way is very intriguing, especially during a time of increased competition among interests. I hope to follow in my mom's footsteps by serving as a conduit to the government and practicing advocacy on behalf of entities with laudable missions.
Q: What's something people might be surprised to know about you?
A: I'm a Constitutional law nerd! I carry a pocket Constitution with me almost everywhere I go and faithfully follow Supreme Court decisions. I have taken almost every undergraduate law class my university offers. I am currently studying for the LSAT and hope to enter law school for Constitutional law in Fall 2022.
Ryan Jansen (Public Affairs Intern)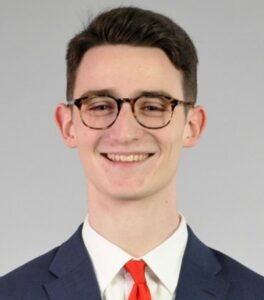 Ryan Jansen is a Chicago-area native and an incoming senior at the University of Michigan in Ann Arbor. He majors in political science and minors in moral and political philosophy. On campus, Ryan serves as an associate justice on the Central Student Judiciary, the court of last resort for the entire student body. In addition, he holds senior leadership positions with the University's Model United Nations teams. Outside of school, Ryan is interested in politics and consulting. He first engaged with politics at the age of 17 when he served as director of youth engagement for a U.S. Congressional campaign (IL-7). In 2019, he was a public affairs intern for Resolute Consulting in Chicago. The next summer, the COVID-19 pandemic cancelled his policy internship with MP Brian Masse in the Parliament of Canada. He is excited to be a public affairs intern this summer with Cornerstone. Ryan's areas of interest are defense, international affairs, and energy and environment.
Q: What do you hope to gain from this internship?
A: I am looking forward to developing successful and effective verbal and written communication skills, especially with clients. Moreover, I wish to better understand the consulting industry, how to be successful within it, and how firms interact with government.
Q: How did you become interested in government and/or public affairs?
A: In high school, some friends and I created a youth activism club intending to increase fellow students' awareness and participation in politics. That experience confirmed my appreciation for civic engagement. As I grew older, my experience in public affairs taught me how meaningful the private sector's impact is on the lives of clients, their employees, and in the process, whole communities. Moreover, I learned how public affairs is an essential conduit between people, business, and government. Ever since then, I have sought more opportunities to work in government and public affairs.
Q: What's something people might be surprised to know about you?
A: I write poetry in my free time! Sometimes, I even submit it to publications (with varying levels of success). Poetry is primarily a creative outlet, but I believe it also challenges me to think differently and sharpens my writing skills, from creative pieces to research papers.
Anna November (Public Affairs Intern)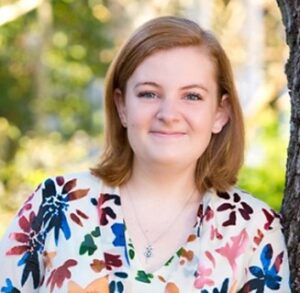 Anna November is a junior at Georgetown University studying psychology and Jewish civilization. Her studies focus on the ways psychology research can inform the legislative process, and she is passionate about translating important research into actionable policy. Prior to joining the Cornerstone team, she worked on the communications team for National Juvenile Justice Network, a membership organization made up of advocacy groups from all 50 states and the District of Columbia. Anna has lived in Georgia, Kentucky, and Louisiana throughout her life, but she calls New Orleans home. At school, Anna is a tour guide, admissions ambassador, and peer advisor. In her free time, she enjoys supporting the performing arts and exploring cuisine from different cultures. Anna's areas of interest include education, health, and energy and environment.
Q: What do you hope to gain from this internship?
A: I hope to have some hands-on experience working with clients and to leave feeling confident in my understanding of how the public and private sector work together. I am also excited to broaden my knowledge about pertinent policy areas and get to know the needs of Cornerstone's clients.
Q: How did you become interested in government and/or public affairs?
A: I've always enjoyed diving into projects that allow me to get to the heart of problems and create tangible solutions. Once I got to high school and learned more about government, I started to see how work in public affairs and government could allow me the opportunity to build on my excitement about problem-solving to address huge issues with wide-reaching effects. I came to be even more aware of how pivotal a role government plays once I got into advocacy work, and I realized how much I enjoy advocating on behalf of others for policy change.
Q: What's something people might be surprised to know about you?
A: I've taken professional voice lessons since I was young! My mom and grandfather were both musicians when they were young, so music has always been a part of my life, and singing is a great stress-reliever.