We are thrilled to introduce our Spring 2021 Intern Class, an extraordinary group of eight young professionals and students from across the world.
Despite the COVID-19 pandemic, we have continued to welcome young professionals interested in government relations to our internship program, as we have done since the founding of the firm. We have embraced the virtual work environment as part of the program, allowing for an intern class with different geographic footprints and diversified business interests.
This fall, we received more than 180 applicants and selected eight. In addition to this group of eight, we were pleased to keep on two of our Fall 2020 interns focused on supporting the firm's public affairs and operations and marketing teams. We are grateful for the addition of these individuals and are excited for their contribution to our Cornerstone team.
Ariadna Chua

Ariadna is a junior at New York University majoring in politics with a minor in public policy and management. Prior to joining Cornerstone, Ariadna spent a summer as a research assistant for the Center on National Security at Fordham Law, a semester at CNN, and over a year at the Manhattan District Attorney's office exploring her interests in law, communications, and public policy. She was also selected as a Presidential Honors Scholar, awarded to the top ten percent of each class at NYU, and had the opportunity to travel to Accra, Ghana on an all-expense paid trip.
Ariadna grew up in Sugar Land, Texas with her Great Dane, Scooby, but is originally from Barcelona and can speak Spanish and Catalan fluently, as well as some Arabic. She plans on going to law school after completing her undergraduate studies and hopes her law degree will help her further a career in the policy making arena.
Q: How did you become interested in government and/or public affairs?
A: In high school, I was awarded the Kennedy- Lugar Youth Scholarship by the Department of State to spend my junior year in Amman, Jordan. Although I was already interested in government and politics, my scholarship and subsequent time in Jordan solidified my interest in working in public affairs. Through my coursework and previous experiences, I've found a passion for strategic communication, policymaking, and advocacy.
Q: What's something people might be surprised to know about you?
 A: I'm extremely passionate about education! My mom is a public-school teacher and growing up I saw first-hand the dedication and sacrifices demanded of teachers, today more than ever. I'm a big advocate for public education and truly believe that it is the backbone of this nation.
 Q: What are you most interested in learning during your internship at Cornerstone?
A: I'm interested in getting exposure and an in-depth understanding of government consulting and how advisory firms assist and navigate client interests through an administration change.
Phoebe Cribb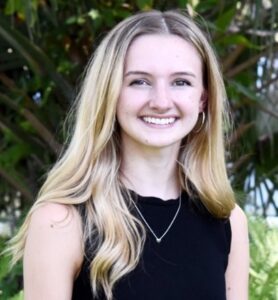 Phoebe is originally from Lancashire, United Kingdom, and recently graduated from Bryn Mawr College with an honors B.A. in political science. After becoming a Sutton Trust-Fulbright Scholar in 2015 she was awarded an academic scholarship to study in the U.S. Leaving the UK after Brexit and arriving to the U.S. during the 2016 election made her very motivated to learn more about government and public policy decision-making.
Through completing a fellowship with the Progressive Policy Institute and participating in the American Enterprise Institute's summer honors program, she has analyzed policies focused on technology, education, and international development. She wrote her thesis on the topic of international soft law and migrant integration policies in the European Union. She was awarded the Herman M. Somers Prize in Political Science for the best senior thesis and was chosen to be published in Columbia University's Journal of Politics and Society.
After graduation she decided to join a non-partisan voter education and registration campaign in Florida to help increase youth voter turnout for the 2020 presidential election. Her team worked with over 20 colleges and helped register 2,500 students to vote – many for the first time. She looks forward to joining the Cornerstone team and pursuing a career in international affairs.
Q: How did you become interested in government and/or public affairs?
 A: I am originally from the North West of England. I was too young to vote in the 2016 EU referendum, and I then moved to the U.S. for college where I also couldn't vote. I was very frustrated that I was unable to have my voice heard in these impactful elections, so I started to campaign, volunteer, and conduct research on a range of policy issues. I wanted to learn more about U.S. politics and how international and domestic governance intersect. Through internships and volunteer work I have had the opportunity to engage with policy dialogues in a broad range of international, federal, and local settings. I believe government is the best place to create positive change and maximize opportunities for everyone.
 Q: What's something people might be surprised to know about you?
 A: I love to surf! I have surfed all over the world and I enjoy exploring new places. My favorite spots are Indonesia and Australia.
 Q: What are you most interested in learning during your internship at Cornerstone?
 A: I hope to broaden my policy knowledge in the areas of national security, defense, and international affairs. I am also interested in learning how the public and private sectors work together to solve problems and create positive change in government.
Lauren Lehner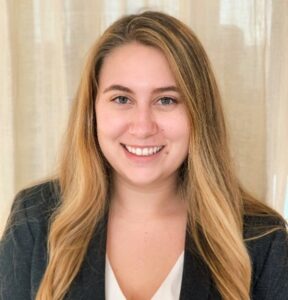 Lauren Lehner is a senior at Southern Methodist University in Dallas, Texas studying public policy and corporate communications and public affairs with minors in journalism, law, and political science. Prior to joining the Cornerstone team, Lauren worked as a summer associate for Jocelyn Hong & Associates where she gained valuable knowledge in field of government relations as well as focused on environmental advocacy. Additionally, she has served on the communications team of two campaigns in her home state of Florida, one local and one state.
At school, Lauren is a school ambassador, involved in student media and co-chairs the Panhellenic judicial board which received the NPC Innovation in Judicial Procedure award this year. She is interested in education, environment, international affairs, and health policy.
Q: How did you become interested in government and/or public affairs?
 A: My primary exposure to public affairs work is through college courses in communication theory. I enjoyed learning about the nuances of working with clients to get at the heart of their concerns and then offer strategies to solve these issues. Soon after, I was able to combine these fundamentals of strategic communication with political research.  It is the interplay that exists between public affairs and political advocacy that has become the focus of my education and degrees.  Ultimately, this is the path I want to follow for my career. Moreover, I have worked in various sectors of government including serving on the campaigns of both state and local elections, so I have experience working in the private sector while closely related to government which is how I became interested in government.
 Q: What's something people might be surprised to know about you?
 A: I am learning Italian in my free time. I used to compete in opera competitions and primarily sang in Italian, so I wanted to expand my vocabulary besides the words of my competition songs.
 Q: What are you most interested in learning during your internship at Cornerstone?
 A: I am looking forward to learning more about the teamwork, collaboration, and other skills that are needed to be effective in a larger government relations firm given my background working with a boutique firm. Furthermore, I am interested in the numerous policy issues on which Cornerstone counsels its clients and hope to expand my knowledge in the fields of education and environmental policy, while also learning about the nuances of fields outside of my previous experience such as health and trade policy.
Yomna Nassar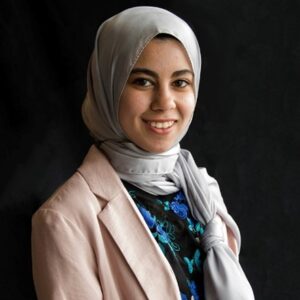 Yomna Nassar is a senior at the University of Maryland, College Park studying global health and development with a minor in innovation and entrepreneurship. Yomna is also an alumnus of the Global Fellows in Washington, D.C. program at the University of Maryland, in the Water Security and Global Health Challenges concentration. Previously, Yomna worked at the Middle East Institute with the Egypt Program, with the MD Office of the Public Defender, and with the legal team at Kids in Need of Defense. She is interested in health, international affairs, and international development. In the future, Yomna hopes to attend law school and continue to pursue her passion for public policy and international affairs.
Q: How did you become interested in government and/or public affairs?
A: It feels like I have been interested in public affairs for as long as I can remember. As a child, I was always encouraged to be vocal about the things I care about and be involved. The first time I remember getting really invested in government and public affairs was as a child when I witnessed the 2011 Egyptian Revolution unfold. As an Egyptian-American, this sparked my interest in government and got me more involved in public affairs both internationally and in my local community.
Q: What's something people might be surprised to know about you?
A: One thing people might be surprised to know about me is that while I love policy research, I am also really interested in health sciences. I am currently a part of a research team at the University of Maryland working on developing a targeted chemotherapy drug delivery mechanism using polymers to reduce the side effects of systemic chemotherapy!
Q: What are you most interested in learning during your internship at Cornerstone?
A: I hope to gain more in-depth, hands-on experience in the public policy realm by working with different clients and getting to experience different facets of policy work! I am especially excited about the opportunity to assist with different areas of interest and gain more experience in new domains.
Noah Thurm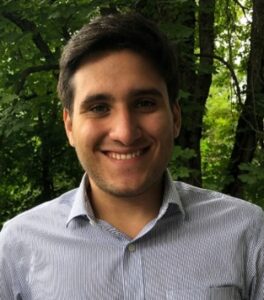 Noah Thurm was born in New York City, and raised in Englewood, New Jersey. After high school, he took a gap year in Jerusalem to learn about his religious heritage. Noah then enrolled in the University of Maryland, where he is currently a junior majoring in history and minoring in real estate development. For his first two years at Maryland, Noah was a member of the selective College Park Scholars Justice and Legal Thought honors program. Currently, he is a member of the Global Fellows International Relations and Regions of Crisis program taught by government officials.
Noah is passionate about history, film, and baseball. Last summer, he was a member of the Simon Wiesenthal Center Government Advocacy Internship, where he received the opportunity to intern for Brooklyn Borough President Eric L. Adams at Borough Hall. Prior to that, Noah worked for the New Jersey RNC Department of Jewish Outreach, Wildes and Weinberg P.C. immigration law firm, and at the kosher hot dog stand at Yankee Stadium. During the summer of COVID lockdown, Noah started a successful power washing business with his brother, where he had the opportunity to work outside and learn the skills associated with operating a small business. As an appropriations intern, he is looking forward to the exciting opportunities awaiting him at Cornerstone. 
Q: How did you become interested in government and/or public affairs?
A: It is an interest that has developed overtime. I have always been fascinated with studying US history. However, it wasn't until college that I truly realized just how connected history is to contemporary affairs. Studying history has led me to become invested in public affairs, as I wanted to see firsthand the extent to which historical wrongs can be righted by working within our political system. I have developed this interest through various internships and coursework, and my passion for history, politics, and governance continues to grow.
Q: What's something people might be surprised to know about you?
A: Most people can't tell by looking at me, but I am a very strong swimmer and an exceptional diver.
Q: What are you most interested in learning during your internship at Cornerstone?
A: I hope to learn the ins and outs of the appropriations process, as well as how a consulting firm interacts both with its clients and the federal government. I am excited to build substantial relationships and learn about the industry as I begin to think about a long-term career.
David Federico Velasco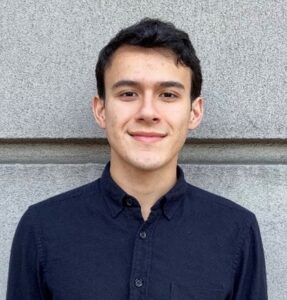 Born in Caracas, Venezuela and raised in Miami, David is now a junior at New York University studying Politics and Business. His experience includes interning at two accounting firms, building asylum claims at the New Sanctuary Coalition, and working as a research assistant at NYU's Public Safety Lab. This past Spring, David took part in NYU's Global Leadership Program in Washington D.C. and interned at the Washington Office on Latin America, studying the current crisis in Venezuela and at the US-Mexico border.
David is an excellent student with interests in politics and consulting. Additionally, David speaks fluent Spanish and holds a deep interest in local news and urban planning, believing both to be pillars of community enrichment. Soccer is his pastime, and no matter the city you can find him playing pickup games on any given weekend.
Q: How did you become interested in government and/or public affairs?
A: It's always been something I've been interested in. Growing up I loved reading news on international relations and when I got into college, it was only natural I would major in Politics. The goal was (and still is) to do something meaningful by being an active part of the formation or execution of policies that could better the lives of thousands of Americans. After my internship at the Washington Office on Latin America, I realized that working directly in policy for a government relations firm, congressman, senator, or president was something that excited me.
Q: What's something people might be surprised to know about you?
A: I run an Instagram-based news outlet! It's based on my hometown city of Doral, FL where I report on local events, public projects, and have also interviewed candidates for office and councilmembers. I started it after having read about the decline and unprofitability of the local news industry and becoming frustrated with the amount of coverage my own city got on local papers.
Q: What are you most interested in learning during your internship at Cornerstone?
A: One thing – what makes DC tick. By becoming part of a company that is in the thick of the policy-making process, I will be able to better understand the way the private sector influences the policies our elected officials introduce and pass later. Additionally, the relationships I form at Cornerstone will allow me to witness the most productive and successful lobbyists at work. Their example will serve as a blueprint for me to become an intern that better understands how Washington, DC functions by learning who to talk to, what to talk about, and when.
Nia Warren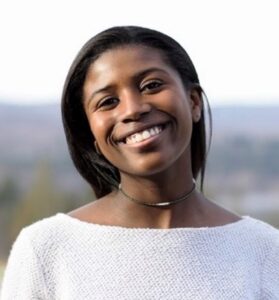 Nia Warren, a native of northern New Jersey, is a sophomore at Harvard University studying government and African American studies. On campus, she is involved in a plethora of activities including the Harvard University Legal Committee and Harvard College Consulting group. Nia spent her past summer as a legislative intern for U.S. Senator Cory Booker's Washington, D.C. office working on domestic policy issues. Additionally, she drafted a national education policy paper for Harvard University Institute of Politics. Finally, she helped create a startup business focused on matching talent to local governments for short term high impact projects. In Fall 2020, Nia served as an intern in the research department at EMILY's List. She is very interested in the intersection of politics and law and plans to go on to law school. In her free time, she enjoys reading, dancing and teaching African-American history to middle school students.
Q: How did you become interested in government and/or public affairs?
A: Government has always been a big part of my life as my father has been engaged in local politics since I was in elementary school. In high school and college, I learned about the pivotal role government plays in addressing problems in our society. Through volunteering with my father, my school, and my internship experiences, I have had firsthand exposure to how politics and government can help initiate solutions to economic and social issues. In the future, I hope to work toward creating a world that is more just and equitable and I believe that it is through government that the right steps can be taken.
Q: What's something people might be surprised to know about you? 
A: I have been dancing since I was three years old and have been trained in a myriad of styles ranging from pointe to hip hop. In middle school, I even auditioned for America's Got Talent (I am still waiting for the call back). I continue to dance competitively on my school's dance team.
Q: What are you most interested in learning during your internship at Cornerstone?
A: I am eager to enhance my research and writing skills through memo writing and issue-specific research. I also hope to learn and take guidance from the talented pool of people at Cornerstone. Lastly, I am looking forward to the opportunity to learn more about the different industries in which Cornerstone operates to find my niche.
Braeden Pugh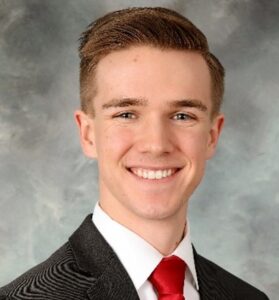 Braeden is from Danville, CA, located in the San Francisco Bay Area, and is a junior at the George Washington University Elliott School of International Affairs pursuing a BS in international affairs and economics with a minor in mechanical engineering and a concentration in security policy. Prior to graduating from San Ramon Valley High School, he was heavily involved in Youth and Government, ran for Youth Governor of California and helped found the Conservative Delegate Caucus. During his time in high school, he also founded a YAF chapter and was consistently in the top 1 percent of his class. Before attending GW, he became a Washington Crossing Foundation Scholar. Now, he is pursuing cross-disciplinary studies taking engineering courses alongside his international affairs requirements with the hope of graduating in Spring 2022.
Outside of academics he is a member of Tau Kappa Epsilon at GW and has pursued leadership roles including treasurer and now vice president. He led the chapter in St. Jude fundraising for multiple semesters and is involved with College Republicans and YAF at GW. In the fall of 2019, he had the opportunity to intern with Congressman Tom McClintock (R-CA) and was able to see how a congressional office functioned to serve people in an area he considers to be a second home. In his free time, he loves to read, especially thrillers. He also snow skis and water skis in Sierra Nevada. He is a huge San Francisco Giants and 49ers fan and a dedicated fantasy football player.
Q: How did you become interested in government and/or public affairs?
A: When I was in high school, I participated in a youth legislative program through the YMCA's Youth & Government. This drove me to pursue my studies in economics and international affairs. I love evaluating how the policies and actions of governments and corporations can affect our daily lives and what the outcomes might be. Interning with Congressman McClintock was also an eye-opening experience which made me realize how motivated I was to work with the public and private sectors to craft policy and pursue my passions. Government affairs is the convergence of every facet of life in our country, and I want to be involved with helping it to function.
Q: What's something people might be surprised to know about you?
A: I'm a Little League umpire! While there hasn't been a baseball season since Summer 2019, I umpired since I was 12 and became one of the senior youth umpires for Danville Little League during my tenure.
Q: What are you most interested in learning during your internship at Cornerstone?
A: I want to learn how a consulting and government-affairs company conducts its business. I am interested in the consulting industry, and I want to gain hands-on experience in working with clients to meet their needs. I am particularly intrigued by the process of preparing for and pitching to clients, and I hope I can gain experience in this during my time at Cornerstone.